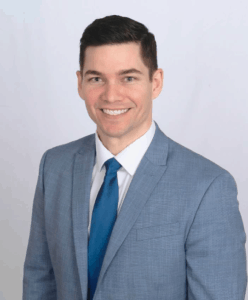 Dr. Ryan Parnell was born, raised, and educated in Odessa, Texas where he attended the University of Texas of the Permian Basin and was a 2010 Magna Cum Laude graduate with a major in Biology and a minor in Chemistry. Dr. Parnell completed his four-year dental education at Baylor College of Dentistry where he became interested in oral and maxillofacial surgery. While at Baylor, he was honored to receive the Southwest Society of Oral and Maxillofacial Surgeons Award during his senior year.
After graduation from Baylor in 2014, Dr. Parnell began his residency in oral and maxillofacial surgery, a six-year MD integrated program, through Ascension Health System in Detroit, Michigan. He attended Wayne State University School of Medicine and received adult and pediatric anesthesia training through Detroit Medical Center and Children's Hospital of Michigan.  Dr. Parnell completed a one-year General Surgery Internship at Ascension St. John Hospital in Detroit and was chosen as Chief resident of the oral and maxillofacial surgery service. In March 2022, Dr. Parnell successfully passed the certifying exams for his specialty and is a Diplomate of the American Board of Oral & Maxillofacial Surgery.
Dr. Parnell's specific areas of interest within the scope of oral and maxillofacial surgery include dentoalveolar procedures, dental implants, bone grafting techniques, maxillofacial traumas, orthognathic surgeries, and benign oral pathologies.
Dr. Parnell joined Northwest Oral & Maxillofacial Surgery in August 2020.