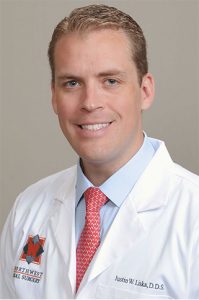 Dr. Justin Liska joined Northwest Oral & Maxillofacial Surgery in July 2016, previously graduating from Texas A&M University with his undergraduate degree and from The University of Texas Health Science Center in Houston in 2011 with his graduate degree, D.D.S.
Dr. Liska was always certain that he wanted to be an oral and maxillofacial surgeon because of the life-changing results that can be achieved through specialized surgical techniques. His pursuit of becoming an oral and maxillofacial surgeon began at The University of Kentucky where he completed an oral and maxillofacial internship in 2012. Dr. Liska completed his OMFS residency at Allegheny Health Network affiliated hospitals in Pittsburgh, Pennsylvania in 2016.
Through Dr. Liska's extensive education, he has significant training in TMJ surgery and reconstruction which is an area of special interest for him. In addition, he has completed research in the diagnosis of obstructive sleep apnea in the endentulous patient. As an oral and maxillofacial surgeon, he is fully trained to perform the entire scope of his specialty including wisdom teeth extractions, the placement of dental implants, bone grafting, orthognathic surgery and benign pathology. Dr. Liska is a member of the American Association of Oral and Maxillofacial Surgeons and a diplomate of the International Congress of Oral Implantologists. Additionally, he is BLS, ACLS and PALS certified. In March 2019, Dr. Liska successfully passed the certifying exams for his specialty and is a Diplomate of the American Board of Oral & Maxillofacial Surgery.
Dr. Liska practices at Northwest Oral & Maxillofacial Surgery's Conroe and Huntsville offices. He and his wife, Emily, reside in The Woodlands with their two young children.